@Schwanzhund Die sind schon unterschiedlich, das eine erscheint wöchentlich, das andere rund um die Uhr.
Überhaupt, was Zeit Online rund um die Wahl so abliefert, gefällt mir sehr gut.
Gibt es die ElefantInnenrunde von gestern irgendwo als Audio zum Download?
Gestern beim Fernsehen wünschte ich mir die ganze Zeit den Küppersbusch der ZAK-Ära zurück.
TheEconomist Wondering what to make of the German election? You just need to decide if you are a pessimist or an optimist econ.st/2frvmRZ
@Surfin_Bird Wundert mich weniger. Außerhalb von BY werden halt Seehofer, Söder, Scheuer und die Bundesminister wahrgenommen.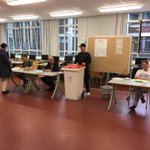 eigenbedarf In #Hamburg #Altona gab es eine Überraschung für die Wähler! Fettes Brot als Wahlhelfer! Geile Typen. #BTW2017 pic.twitter.com/Ai2EFfjHoJ